Thank you to the 150+ community members who attended the Tripping Point – you all made our first weekend mobility summit a major success. Angelenos from all walks of life came out to learn how to make their voices heard. Los Angeles is at a moment of change, with respect to its built environment, transportation and its responsibilities to protect all street users. And we need it. Over 45% of the City of LA's sidewalks are broken, there is a backlog of over 20,000 requests to fix them, and the City currently has no inventory or prioritization plan in place for addressing these tremendous infrastructure needs.
Because of a recent class action lawsuit on the lack of access and accessibility for the City's sidewalks and crosswalks, the City is now obligated to invest at least $31 million a year in fixing our long neglected public space and rights of way. But we hosted the Tripping Point because we think community members need to get involved to ensure these investments are done right – and accelerated. The settlement requires the City of LA to fix its sidewalks within 30 years – we believe we can not wait that long. And with new funding like Measure M and other revenue sources, we are advocating that these fixes be completed within 10 years using a data driven strategic plan with robust community engagement.
Given all this, we are still optimistic as livable streets advocates – there has never been a time when the combination of attention, commitment, and funding for L.A.'s streets has been as solid as it is now. But, as our keynote speakers and attendants reminded all of us on Saturday, there also can be no doubt that more needs to be done. We need to organize and expand the movement for safe and accessible sidewalks, crosswalks, bus stop, urban tree canopy and more. This is why we believe we are at the Tripping Point.
Our streets and sidewalks need to be more accessible and safer, and, in many ways, the city is falling short of the mark. Creating streets, sidewalks, crosswalks that are safe and accessible for all has to be a priority.
To start off the morning, we were treated to a story from Cleo Jones, a member of the Willits class action settlement. Cleo suffered a fall due to a buckled sidewalk and now gets around with the help of a cane. To the audience, she said it's time to start making sure that LA keeps its commitments to make city streets safer for pedestrians like her. "I don't want to walk in the street," she said, "I don't want to walk in the mud." We couldn't agree more.
Deputy Mayor for City Services Barbara Romero then spoke with us about the importance of human-scale infrastructure. As a child growing up in Boyle Heights, she told us her neighborhood landmarks were freeways and she could smell the pollution in the air. Deputy Mayor Romero told us the city is changing its attitude toward data-driven responses to street repair requests. As she put it, "Collecting data isn't enough." Under the direction of Deputy Mayor Romero and Mayor Garcetti, the city is changing its focus from how many requests it gets, to how long responses are taking and whether or not community goals are being met. There is also a need for a new focus on integrating service plans, exploring ideas how accessibility and safety programs like Vision Zero projects can be wrapped into road and sidewalk repair as it happens. The community can also play a role in shifting the priorities at City Hall. Many people say there is no constituency for improving our City's 11,000 miles of sidewalks – which over 45% are in disrepair. At Investing in Place we think this couldn't be more further than the truth but we agree we need to organize around our sidewalks, crosswalks, urban tree canopy – and connect with City Hall leaders to do more to address these issues. The more feedback that Angelenos from all areas of the city provide, the easier it is to secure greater funding to invest in livable streets.
Community member Vanessa Clay spoke to us about using neighborhood councils as tools for effective advocacy. In the northeast San Fernando Valley, she said, the issue is not that sidewalks are broken but that "there are no sidewalks." She told us about a successful campaign to get a sidewalk put in place on a route that children took to a local park, and told us that neighborhood council representatives are there to help us. The best advice for dealing with city representatives? "Be persistent."
Councilmember Nury Martinez reminded us that there is cost to doing nothing. In her district,this year alone, 9 people have already lost their lives to traffic collisions. Councilmember Martinez reflected on the neighborhood where she grew up and watching as a departing factory left behind high unemployment and a polluted environment. "Investing in human beings is the right thing to do," Councilmember Martinez said, adding that it was important to amplify the voices of those who have been passed over for infrastructure spending in the past. "The workforce in L.A. comes from the northeast San Fernando Valley, and we have no safe way to get to work," she said. The councilmember encouraged participants to be more vocal about their funding needs.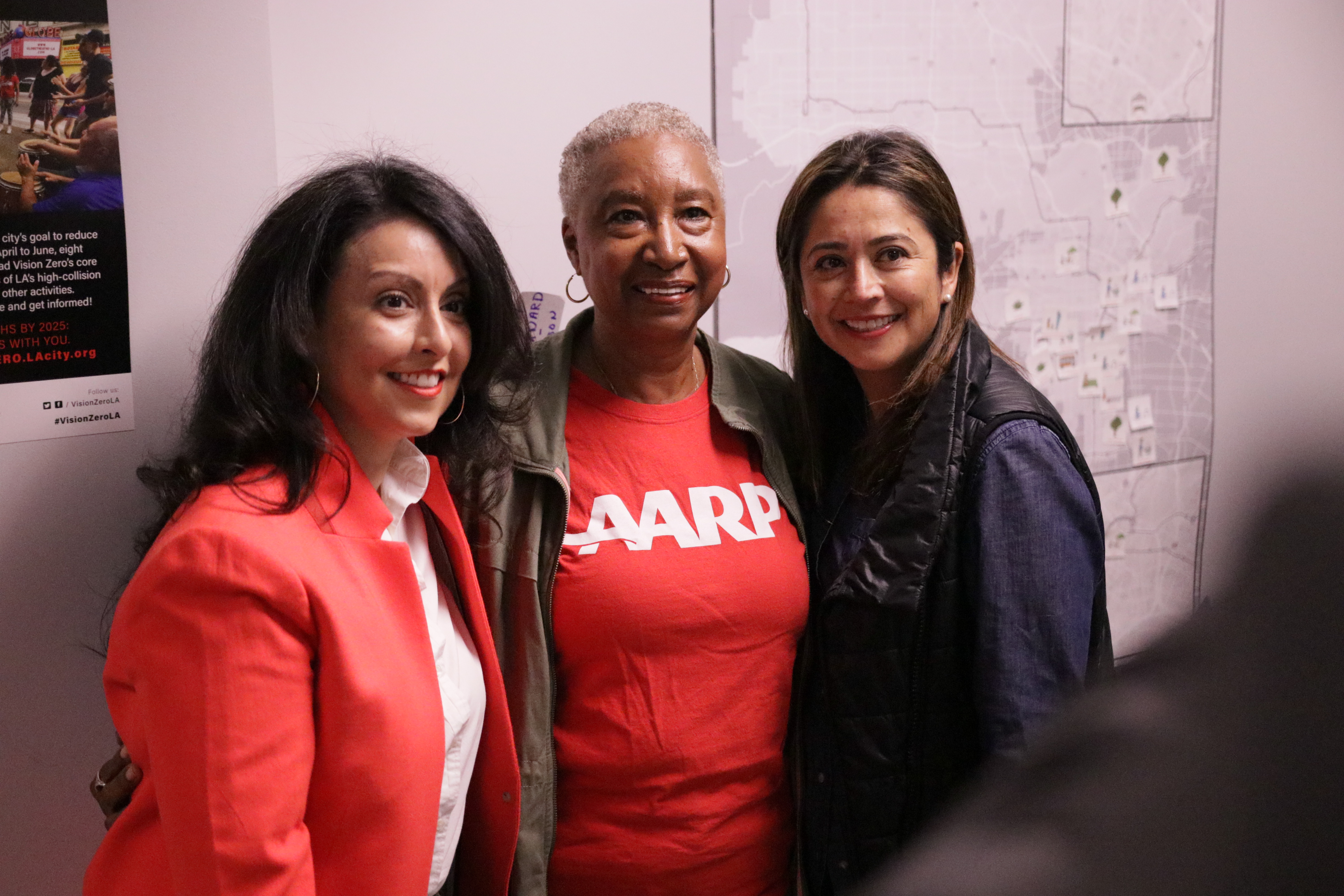 General Manager Seleta Reynolds of LADOT had a discussion with our Executive Director Jessica Meaney about what advocacy looks like in Los Angeles, and how the city's residents can get more of the results they're really looking for. General Manager Reynolds said that because of Los Angeles' history, there is a strong network of advocacy groups working on issues like social justice, environmental justice, and other important issues. However, she said, it's just as important that those groups be willing to "link arms" and fight together on the overarching problems that affect all of them. General Manager Reynolds discussed the importance of advocating based on the outcomes we want, and instead of focusing just on the outputs of an agency like LADOT. Instead of working just to get more trees planted, or more miles of sidewalk repaired, we should have a cohesive outcome that we can work towards. Outcomes like zero pedestrian deaths, and safe and accessible streets, provide the guidelines for building the city we want.
Following the keynote speakers, we concluded the morning session with our breakout groups. Julie Sauter of the city's Bureau of Engineering, along with Francois Nion and Melissa Hernandez of JCDecaux, Nat Gale from the Department of Transportation and Carter Rubin from the Mayor's office of Great Streets led presentations and a group discussion on how to get your sidewalk fixed, get a bus shelter installed or cleaned, request a crosswalk and more. The session was focused on highlighting which City agencies control different parts of the city sidewalks, how those bodies operate, other powerful players and hot to advocate for these improvements.
Meanwhile, Rudy Espinoza and Azusena Favela of LURN led an informative session explaining the city's legislative process and administrative structure. If you don't know who to hold accountable when things don't change, it is that much more difficult to be an effective advocate. Rudy and Azusena broke down the responsibilities of the various government officials and explained the mechanisms that allow city council to slow down or speed up the legislation process. LURN also walked participants through the basics of advocacy, focusing on making the most of meetings with representatives. First, Rudy and Azusena explained powermapping, a tool that identifies who has the power to influence your concern, and then mapping connections between that person and yourself.
Emilia Crotty and the Los Angeles Walks team conducted a walk audit that taught practical assessment tool to participants. The group walked on a route through the neighborhood, identifying the elements that contributed to a safe, accessible and pleasant walking environment. During this session, participants learned how to spot the relationship between the built environment of a neighborhood and how residents interact with it, a crucial skill if we want to make our public spaces more useful and welcoming!
After lunch, the day concluded with a final round of breakout sessions. Jenny Binstock of TreePeople and Rachel Malarich of Koreatown Youth and Community Center hosted a talk on urban forestry issues in Los Angeles. The city has committed to beginning to repair its sidewalks, which in many places will mean removing fully grown trees and losing some of the existing canopy. Jenny and Rachel discussed how the city can develop an Urban Forestry management plan that would protect healthy trees from pests, and ensure that sufficient new tree coverage will be planted to replace the shade our streets will be losing. In some areas where large, sidewalk-buckling trees are being replaced with smaller ones, it will be necessary to plant up to four new trees for every one removed in order to protect the urban canopy. As Jenny said, "We have to plan today for the Urban Forest we want 50 years from now."
Max Podemski of Pacoima Beautiful, Enrique Huerta of From Lot to Spot and Fernando Cazares of the Trust for Public Land co-hosted a session on urban greening. The group leaders showed participants how cities around the world have reused existing infrastructure to create livable spaces. L.A. could use multi-benefit infrastructure like community gardens, green alleys, and parklets to increase mobility, safety, and rainwater capture. After the initial discussion, participants got into groups and discussed where in Boyle Heights urban greening projects would be most effective.
There also was a workshop from America Aceves, a community organizer at Proyecto Pastoral, who presented tools for organizing in your community around pedestrian safety issues. This workshop helped participants develop their own personal story to engage others, how to set up one-on-one meetings to build partners and support and more.
All in all, it was a day filled with informative activities and passionate community members. We hope that you took away valuable skills from the Tripping Point that will help as we make our push to fix #LAsidewalks, crosswalks, bus stops, the urban tree canopy. And, most of all, we hope you had as much fun as we did!
In July or August, the City of Los Angeles will be considering a prioritization process for fixing the City's sidewalks – stay tuned for more information on that. This Advocacy Summit would not have been possible without support from our partners: American Heart Association, AARP, Office of Traffic and Safety, Los Angeles Walks, Tree People, Pacoima Beautiful, LURN, From Lot to Spot and Los Angeles Aging Advocacy Coalition.
For more information, please see:
Advocacy Summit evaluation and feedback