Yesterday, Metro held the inaugural meeting of its new Customer Experience Committee, which is intended to provide a forum for discussing and centering the needs of transit riders. The committee consists of three Metro Directors (Bonin, Dupont-Walker, and Garcia) and four members of the public, who began the meeting by introducing themselves and the perspectives that they wanted to bring to Metro.
The new members include: Dave Myers, a member of the On the Move Riders Club program that encourages seniors to ride transit by teaching them how to get around comfortably and safely; Tafarai Bayne, a community organizer, transportation commissioner for the City of Los Angeles, and Chief Strategist for CicLAvia; Kurt Hagen, a former member of the Board of Directors for Access with an extensive background in ADA paratransit; and Yvette Lopez-Ledesma, Deputy Director at Pacoima Beautiful, who emphasized her desire to focus on equitable access to transit services.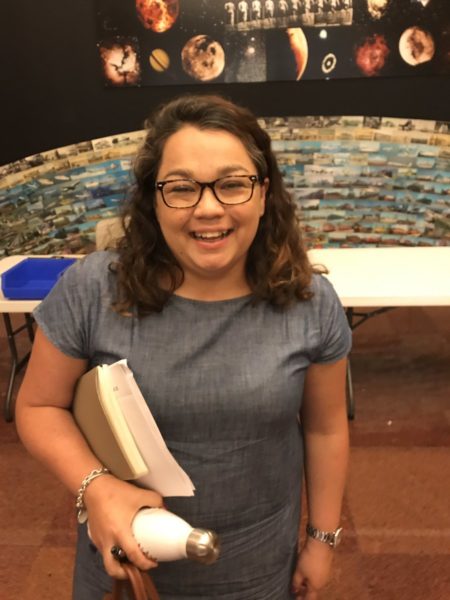 Directors Eric Garcetti and Mike Bonin, in introductory remarks, both discussed the motivation for honing in on rider experience issues now, addressing the changing transit landscape, declining satisfaction with the quality of service, and the clear voter support for transit shown by the passage of Measure M. Director Garcetti said it is the Board's goal to make Los Angeles "the best place in the country to ride transit," while admitting that that isn't the reality for customers at present. Director Bonin said it is his goal for the public representatives on the committee to steer its direction and to be a driving force in developing creative community outreach strategies.
Following the introduction of the committee's purpose, Metro staff presented an update on the Metro Service Study, a multiyear process of overhauling the bus network. Metro's buses, even though they still carry 2/3 of transit riders in the network, are losing ground, and staff said they've been forced to acknowledge that right now "other alternatives are faster and more reliable than our bus network." CEO Phil Washington also confirmed that, while they are focusing primarily on buses, Metro also wants to make sure that they are working toward the development of a seamless multimodal transportation network, with connections between transit, bike and pedestrian infrastructure, and rideshare technology. The presentation gave Metro's new board members an opportunity to comment on their priorities for the Service Study. Director Lopez-Ledesma stressed the importance of maintaining continuity for existing riders as much as possible, and Director Hagen said he believes there is an opportunity to better integrate services for people with disabilities with the fixed-route bus system.
The committee also heard a presentation on service changes that are being developed in order to support expected growth and changes to the rail network. Staff discussed plans to support the Crenshaw Line, Purple Line Extension and Regional Connector, reconfiguring routes to feed major new transit centers in Inglewood, Century City and Westwood. At the same time, staff is looking forward to accommodating development in areas like Warner Center, which is expected to grow significantly over the next 20 years. Director Dupont-Walker noted that, in the development of these plans, stakeholder outreach is extremely important, not only in the areas that are going to be served, but also in neighborhoods that are not slated to get extra service. She said Metro needs to be especially sensitive to the intersection of housing, community development, and transportation, and should coordinate with planning agencies within the County to facilitate service where need exists. Director Bayne added that it's important to note that overcrowded housing is prevalent in many areas of the county, and neighborhoods might be denser than they look in planning documents.
The final report of the day covered the declining speed and reliability of Metro's buses, a problem that has been especially pronounced for the rapid bus network. When staff attributed some of the blame for lower speeds to road diets and other street reconfiguration projects, Director Bonin gave a rousing defense of the Vision Zero program. Bonin said that the effort to protect the safety of road users was not one that he was willing to abandon, and that the notion that Vision Zero conflicts with bus service was the top misconception he wants to see eliminated from Metro. In closing, Director Bonin asked staff for an update on efforts to address bus speeds and, following our report earlier in the day, asked whether all-door boarding was under consideration for more bus routes. Staff responded that ADB is being considered for both the Wilshire and Vermont rapid bus lines, two of the busiest routes in the network.
Metro's Customer Experience Committee will be meeting every other month, and is expected to be driven by the concerns of real transit riders. The committee is requesting that the public send comments, questions, and even suggestions for future meeting locations to customer.exp@metro.net.