Metro is nearly halfway through their project called NextGen, which redesigns bus lines and service in Metro's 25-year old bus network. At Metro's sixth NextGen Working Group meeting on May 29, Metro staff presented a project update and collected equity-focused feedback from around 30 community and civic representatives who attended. Attendees represented municipal transit operators (e.g. LADOT, Santa Monica Big Blue Bus, Access Services), councils of governments (e.g. South Bay, Malibu/Las Virgenes), and advocates. After Metro staff's hour plus presentation, Metro staff divided attendees into three groups to brainstorm equity metrics, value statements, and mechanisms for future feedback (see photos below).
In staff's presentation, Conan Cheung, Metro's executive officer who is in charge of the project, shared that Metro would publicly post Transit Propensity Maps, which staff could use to tailor the redesigned bus network along with the input they are hearing from their work groups and outreach meetings. We await these maps, if different from the Transit Propensity Map (linked here) that Metro shared in April 2019. More importantly, we want Metro staff to account for public input in these maps (input like: which variables to display and how strongly to emphasize metrics such as race, income, car ownership, and collisions); and to clarify how strongly these maps would influence the redesigned bus network.
We remain perplexed on why Metro has not managed to define equity as intended with last year's Equity Framework adoption and apply it to this critical initiative. To us, this underscores our concern over Metro's lack of movement since February 2018 on defining equity and implementing its equity framework in NextGen as promised. All this despite the fact that our partners at USC's Program for Environmental and Regional Equity (PERE) authored Measures Matter, an invaluable report, which offers steps for achieving equitable outcomes with LA County's transportation dollars.
Moving the Conversation Along
Even though this was Metro's sixth working group in a year and a half, the group meetings are still spending time on commonly expressed shortcomings of Metro's transit system such as infrequent buses, a complicated system and about punctuality and cleanliness. We are eager to see this conversation and NextGen effort move past commonly known challenges of using buses to real solutions, targeted in high need neighborhoods. 
And aside from verbal assurance, Metro staff stays vague about how community input they are gathering from work group meetings, like the one last month, will influence the outcome of the redesigned network. So, as many Metro bus riders find themselves waiting, we too are waiting for significant conversations to improve bus service.
Next steps and timeline: Metro staff staff aims to present service concepts to the Metro Board in July and/or September and a draft service plan in November/December. We are hosting a conference call on June 18th at 10am to touch base with partners on this effort and share our concerns and ideas. Please email me for a calendar invite and conference call number to join us. 

Metro's timeline on NextGen has slipped a few months, any changes to the bus system from this project are not expected to be rolled out in June 2020.

Here are four photos of the breakout group feedback at the May 29th NextGen Working Group.
Photo #1 (Breakout Group 1, whose focus was to discuss "NextGen Plan and Equity Platform Measurements")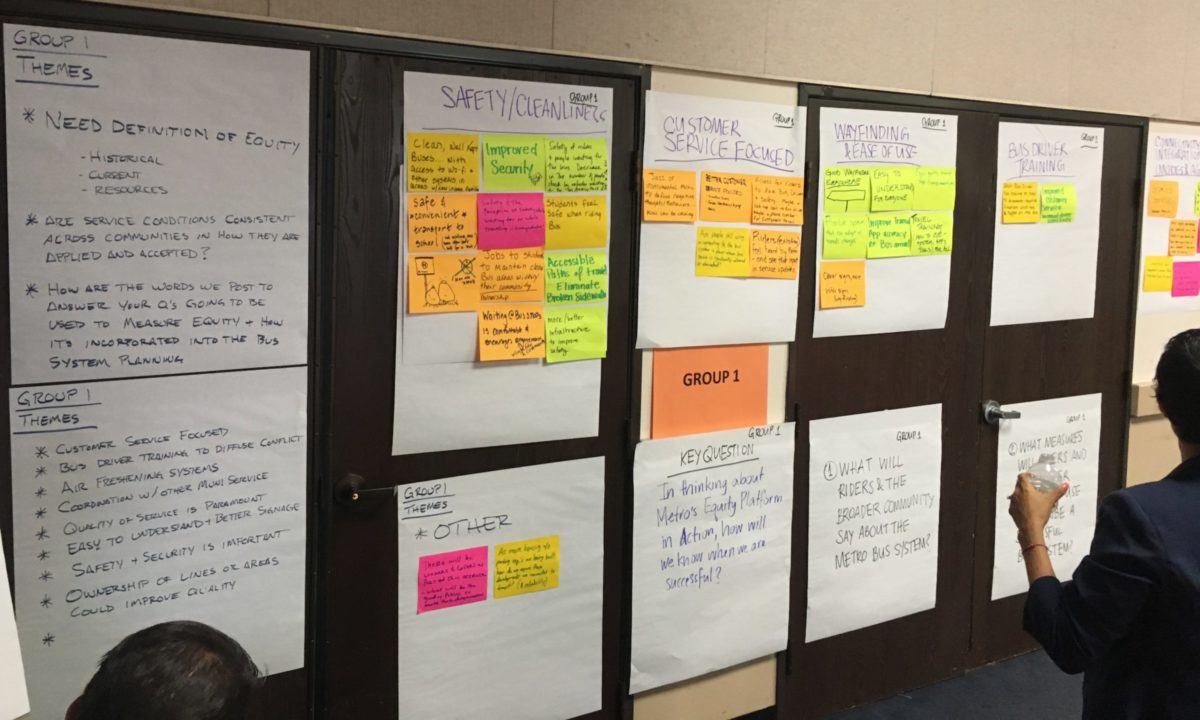 Photo #2 (Breakout Group 1, whose focus was to discuss "NextGen Plan and Equity Platform Measurements")
Photo #3 (Breakout Group 2, whose focus was to discuss "NextGen Equity Platform Guiding Principles Development")
Photo #4 (Breakout Group 3, whose focus was to discuss "NextGen Application of Equity Platform and Future Feedback Mechanisms")