Guest Blog Post by Felipe Escobar,  Pacoima Beautiful
Bus shelters make a difference for transit users, particularly on hot days in the San Fernando Valley. These bus shelters are only becoming more necessary as climate change brings hotter days to our communities. In fact, according to a study by UCLA, the number of hot days (95 degrees plus) could triple by 2050. This figure is troublesome because having shade on a hot day can determine how comfortable a person is, especially when having to wait for a bus for an extended period. For transit users in the northeast San Fernando Valley, one of the hottest areas Los Angeles County, not having shade, is a reality that is lived at many bus stops. This is why Pacoima Beautiful together with Investing in Place, Outfront/JCDecaux and Climate Resolve, are teaming up to create a model that benefits the areas that needed the most by working to install 10 bus shelters in Los Angeles City Council District 6.
This gets us one step closer to achieving environmental justice for our communities. We know that because of poor planning, communities in the northeast San Fernando Valley lack necessary infrastructure such as sidewalks, stormwater drainage, and parks for residents to escape to on hot days. According to the LA County Parks Needs Assessment, Sun Valley only has 1.6 acres of open space per 1,000 residents. This is the story in many communities in the nation where necessary infrastructure was only added in affluent neighborhoods.
"The Shade is important. It is too hot, and we could pass out, especially when the bus takes a long time. This is urgent."  
Transit user
The Bus Shelter Blitz seeks to add more bus shelters to areas that need it the most.
The Bus Shelter Blitz is an effort to address shade and heat issues for residents that use public transportation. As part of the collaboration, Pacoima Beautiful conducted on the ground outreach throughout the district to determine the areas with the higher needs for bus shelters. In September, Pacoima Beautiful members conducted in-person interviews at different sites identified as possible sites through GIS mapping and METRO's ridership data.
We were able to talk to 196 people during the outreach period. The ten bus stops that were most frequently selected by residents, and which we have also determined to be feasible to submit for permits are as follows:
EB Vanowen NS Amestoy
NB San Fernando NS Sheldon
Van Nuys Blvd at Chase
NB Van Nuys FS Victory
SB Lankershim NS Stagg
NB Sepulveda NS Saticoy
NB Lankershim FS Tuxford
WB Sherman Way FS Tuxford
WB Sherman Way FS Van Nuys
NB Van Nuys NS Vanowen
SB Van Nuys NS Arleta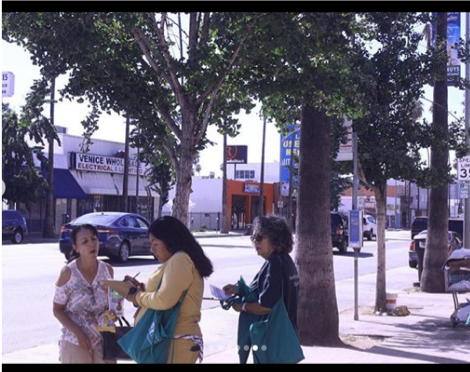 "It will be good to have bus shelter because there are children and elderly people under the sun waiting for the bus" Transit User
The benefit of the Bus Shelter Blitz project is that it focuses on a ground-up approach for designing what amenities to bring to a community as opposed to historical birds-eye view where people not familiar with the community's conditions decide what improvements to bring to an area, often this approach results in mismatched projects that do not bring any real benefits to communities, and it leaves residents unhappy.
As we move forward in striving to make communities more resilient to climate change, we need to continue to implement solutions that begin with those most affected and vulnerable. There is also a need for less red-tape to get much-needed amenities out to the communities. Currently, a challenge to getting bus shelters approved is the dense bureaucratic red tape that a request for bus shelters needs to go through. A request for bus shelters goes through different agencies and council offices for review. A solution can be to simplify the request process by reducing the number of eyes that needed for approval and making the request for new shelters available through different venues such as in-person, phone, and online.
"I just got out of the hospital and to be waiting under the sun for the bus is unbearable" Transit user
Projects such as the bus shelter blitz is a good model where those most impacted by heat while waiting for their bus have a say on which areas to prioritize. Climate change is affecting transit users in Los Angeles every day, and by making sure our transit users have adequate shade is one way we can work towards making our communities more resilient.
For more information see our presentation on this project.