Our Work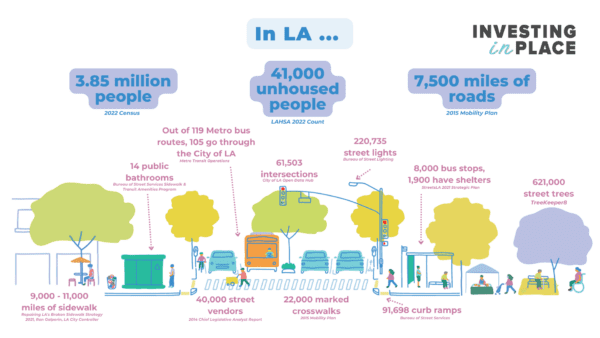 Just Public Space
Vibrant, cohesive neighborhoods are possible when community members know what is being planned for their neighborhood and how they can help shape those plans.
---
That's why:
Los Angeles needs a long-term budgeted plan that encompasses the entire public right-of-way, based on an articulated vision for the future of our city. 
That's what a true Capital Infrastructure Plan (CIP) is.
Our mission for 2023 is to show it can be done and actually create one.
---
To create a better LA, we need a plan for our sidewalks, streets, lights, buses, trees, and anything else related to living fully and moving freely throughout LA's public realm. This plan should be informed by the people who live here, particularly those who have experienced historic disinvestment. 
It starts with an inventory of Los Angeles' public assets as a starting point (and we created it! see #5 below).
We also recognize that how we treat our public space has a direct link to our current crises around affordable housing and homelessness. In the most urgent cases, the streets themselves become housing.  The rules we create about who is welcome to use public space, and the ways those rules are enforced, often make things worse. We will incorporate these pressing issues into our work.
Check out our Fall 2023 CIP Campaign Summary and our full Fall 2023 CIP Campaign Update to learn where we have been and where we are headed with creating the first-ever CIP for LA.
---
Join us:
We need people who understand this critical need and are active in the process. To that end, we are creating resources to help you learn about CIPs and get involved in the creation of the first one for LA. This space  will be regularly updated with resources as we produce them.
We offer several ways to learn and collaborate with us: 
Live online workshops (check our

Events

page)

Videos on demand (of those live online workshops)

Slides from the workshops

Detailed blog posts

Visual storybooks

Surveys
We also welcome you to contact us directly if you have ideas and/or questions about how LA manages its public right-of-way: hello@investinginplace.org 
Keep scrolling to get started!
---
1. INTRODUCTION
Hiding in Plain Sight: Billions in LA Public Funding – November 2022
Learn:  What is a CIP?  |  Why LA is dysfunctional without one  |  What having a CIP can do for LA
---
2.

FOLLOW THE MONEY
Psst! Look Back to Look Forward: Why LA City's Budget Process Doesn't Work – December 2022
Learn: How LA creates its annual budget  |  How much money there is and what it's for  |  What information we still can't find (after a LOT of looking)
---
3. WHAT'S BEEN DONE SO FAR? 
Keeping Our House in Order: What LA Has Done, and What's Next – January 2023
Learn:  Who manages LA's public right-of-way | What has been done so far to address LA's infrastructure issues | Where and how are key decisions made?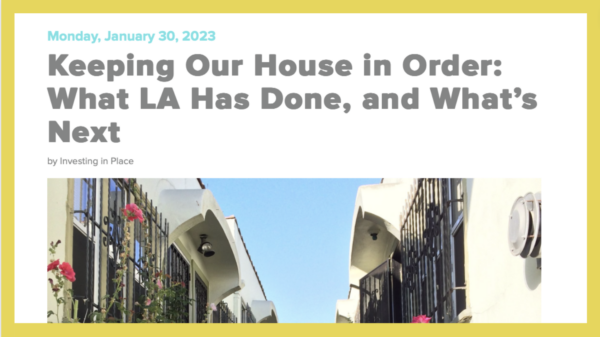 ---
4.

WHAT OTHER CITIES DO
There is a Way: What We've Learned from the CIPs of 30+ Cities (So Far!) – March 2023
Learn: 3 things LA can do right now | 10 lessons from other cities
---
5.THE FIRST STEP: WE CREATED AN INVENTORY
We've Got LA's Number: An Inventory of Los Angeles Streets, Sidewalks, and Everything in Between
Learn: The scope of what the City of LA is charged with managing and maintaining | Why and how Investing in Place created LA's first comprehensive inventory  | Lessons learned
---